The following is a complete list of RRI publications.
For questions regarding a specific publication, email us at mqureshi@rightsandresources.org.
2014
2013
2012
2011
2010
2009
2008
October 30, 2014
From a business perspective, the risk posed by conflicts between concession operators and local populations in emerging or frontier markets concerns more than just companies with ground-level operations. It also interests investors. Grounded in an ongoing examination of case studies, this analysis describes the overarching patterns of conflict between companies and local communities in emerging and frontier market concessions. Identifying those patterns is the first step to establishing best practices for managing the risk.
October 6, 2014
This new report reveals that Asia Pulp and Paper (APP), one of the worlds' ten largest pulp and paper companies with over US$20 billion in assets, is facing deep challenges due to the illegality of its land acquisitions in China. The land rights conflicts arising from these acquisitions—if left unaddressed—pose serious risks to APP's investments and operations in the country.
September 17, 2014
There has been longstanding, and in many countries unmet, demand from Indigenous Peoples and local communities for the formal recognition of their rights to customarily owned lands, forests, and other natural resources. Today, there is unprecedented agreement among governments, the development cooperation community, private investors, and companies, that securing local land rights is an urgent, global priority. This brief calculates the cost of securing Indigenous Peoples' and community rights to the tropical forests where they live, noting that secure land tenure is a prerequisite for the success of climate, poverty reduction and ecosystem conservation initiatives.
August 21, 2014
Securing Rights, Combating Climate Change analyzes the growing body of evidence linking community forest rights with healthier forests and lower carbon dioxide (CO2) emissions from deforestation and forest degradation.
This report makes a strong case for strengthening the rights of indigenous and local communities over their forests as a policy tool for mitigating climate change.
April 16, 2014
This report – a follow-up to our 2010 investigation on Stora Enso's land acquisition in China, which revealed violations of forest farmers' property rights – assesses the company's efforts to address rights infringements identified in 2010.
Prepared with Landesa, the report identifies several corrective actions taken by Stora Enso to remedy the situation, including suspending further acquisition of collective forest land, making corrections to 35 percent of its existing contracts, and launching an internal screening and correction process for existing contracts. Despite these measures, however, a number of legal and operational flaws in these corrective actions were found and many issues remain unresolved.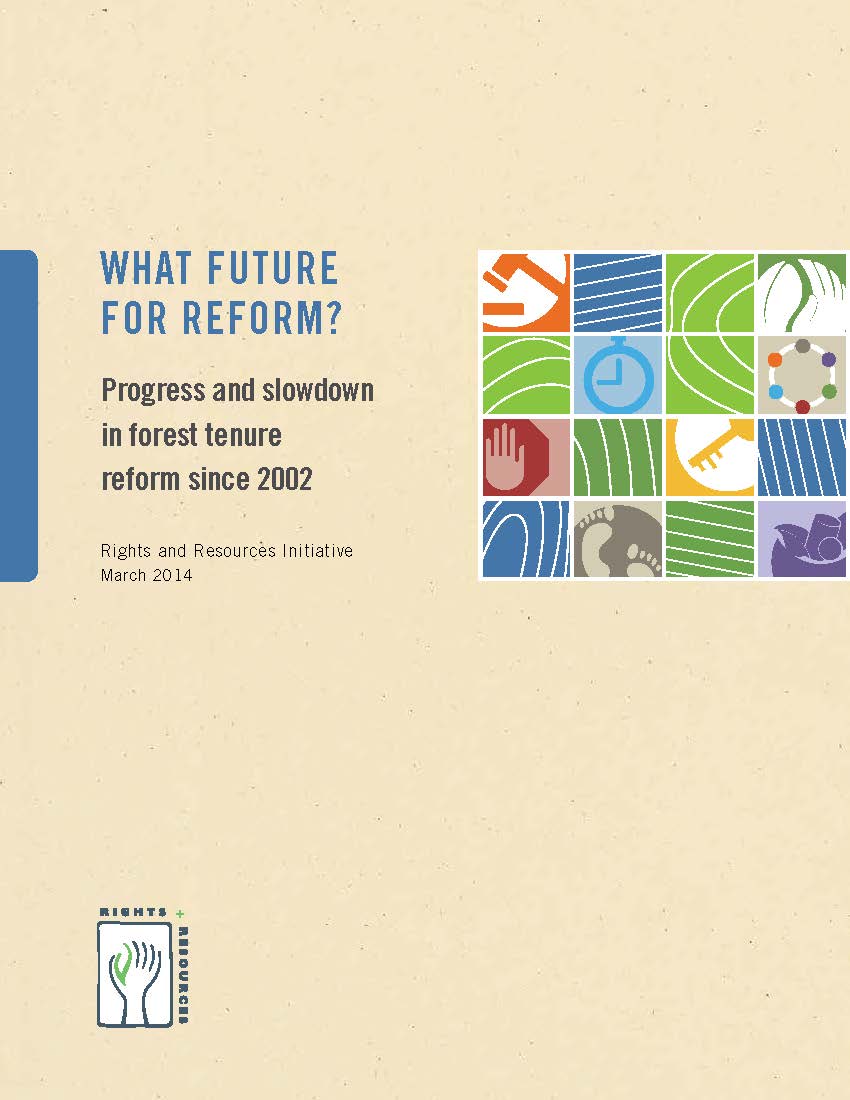 March 26, 2014
Who owns the world's forests, and who decides on their governance? The answers to these questions are still deeply contested. To many Indigenous Peoples and local communities who have lived in and around forests for generations, the forests belong to them, under locally defined systems of customary tenure. In most countries, however, governments have claimed ownership of much of the forest estate through historical processes of expropriation, and those claims have been formalized in statutory laws. While governments are increasingly recognizing local ownership and control of forests, forest tenure arrangements remain in dispute or unclear in many places, including low, middle, and high income countries.
March 19, 2014
The Warsaw Framework on REDD+ adopted by Parties to the UNFCCC in November 2013 paves the way for payments to flow to developing countries for carbon emissions reductions from forests. The new framework encourages countries to set up a national entity or designated focal point for REDD+, which will be eligible to receive financing to implement REDD+ activities and strategies. The climate community has generally welcomed this decision as a landmark achievement, although there has been some criticism regarding the lack of a mechanism to implement social and environmental safeguards to protect the rights of local peoples.
February 5, 2014
The annual review of the state of rights and resources 2013-2014.